Creative Sound Blaster ZxR
Công ty Hợp Thành Thịnh chuyên cung cấp sản phẩm Creative Sound Blaster ZxR chính hãng giá tốt.
Creative Sound Blaster ZxR là một sản phẩm tốt được nhiều doanh nghiệp chọn lựa cho giải pháp của mình.Với thiết kế nhỏ gọn và thông minh.
Xin liên hệ hotline bán hàng tại TP.HCM: 0938.307.374 Ms Trinh
Bán Creative Sound Blaster ZxR giá rẻ tại TP.HCM, hàng chính hãng giá tốt, bảo hành 12 tháng, có chứng nhận C.O;C.Q
Công ty cam kết giao hàng và lắp đặt tận nơi cho khách hàng tại TP.HCM.
TÍNH NĂNG CHÍNH
The ultimate in audio playback and creation solution
Signal-to-Noise Ratio of 124dB
A signal to noise ratio or SNR of 124dB means your audio will be more than 99.99% pristine, which is over 89.1 times better than motherboard audio.
Pristine audio recordings with ultra low latency

Enjoy reduced latency with Audio Stream Input/Output (ASIO) support with the Sound Blaster ZxR. Hear your audio recordings come to life!
Stereo Direct lets you listen to your music pure and unprocessed at the amazing bit rate of 24-bit 192 kHz.
SBX Pro Studio™ technologies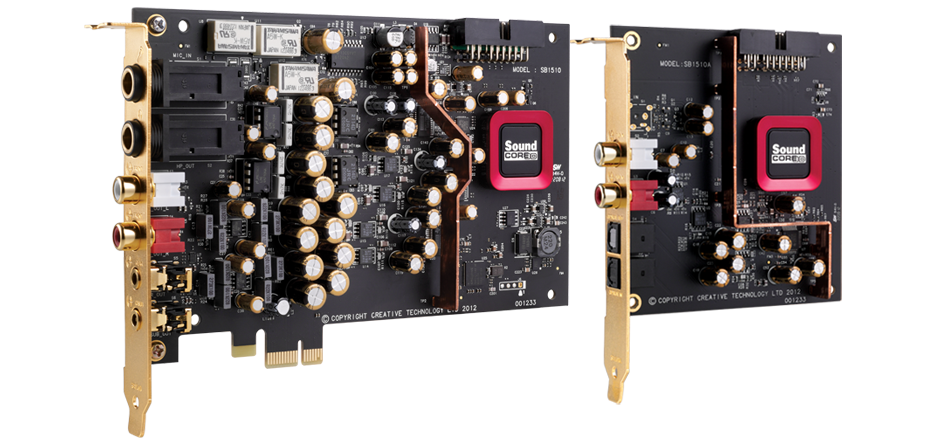 Add studio quality audio sound tracks or voice tracks to your video clips or home videos created with hardware that uses only audiophile-grade components such as 123dB analog-to-digital converters (ADCs) with RCA Aux-in and optical inputs for outstanding recording quality. With the 600 ohm headphone amplifier, you can do studio-grade monitoring as well.
The DBpro is another reason why Sound Blaster ZxR delivers only the best audio playback and creation. It offers optical output for outstanding audio playback, plus professional-grade ADCs with RCA Aux-in and optical inputs for studio-grade recording quality.
Accessible Audio Control Module (ACM)
Take control in style and ease with the ACM that incorporates a built-in microphone array and mic/headphone I/O connections. The knob on the ACM lets you conveniently adjust the headphone levels.
Sound Core3D audio processor
The multi-core Sound Core3D™ audio processor is designed to offload SBX Pro Studio and CrystalVoice effects processing from your primary CPU, improving your overall PC performance, resulting in drastically superior audio and voice quality.
In gaming, if you're not communicating, you're not winning. Experience crystal clear communication with your teammates with the CrystalVoice™ suite of technologies that removes echoes, ambient noises and picks up your voice from within a zone (Voice Focus). It also maintains your voice level even if you are near or further away from the microphone. Understand how CrystalVoice™ technologies work.
Connect to your home theatre system through a single digital cable and enjoy cinematic DVD movies by transforming any stereo or multi-channel streams into high fidelity immersive surround sound.
Never unplug your headphones again
With the Sound Blaster Z-series Control Panel, just toggle between your headphone and speaker system with a flip of a switch.
C
lever applications of clever technology for clever people
It's the clever little touches that make our products truly exceptional. We pay special attention to each little detail, ensuring that every bit of technology in our products actually makes a big difference in your life.
General
Audio Processor: Sound Core3D
SBX Pro Studio: Yes
Max. Playback Quality: 24-bit / 192kHz (Stereo-Direct Mode)
24-bit / 96kHz (5.1)
Max. Recording Quality: 24-bit / 96kHz
Output: 5.1 Channels
Included Accessories: Audio Control Module (with Beamforming Microphone Built-in)
Key Features
Signal-to-Noise Ratio (SNR): 124dB
Upmixing of Stereo to Multi-channels: Yes
Connectivity Options (Main)
Headphone:
1 x Amplified 1/4" jack
Speaker Out:
2 x RCA (L / R)
2 x 3.5mm jacks (Rear, C/Sub)
Microphone In:
1 x 1/4" jack
Connectivity Options (Accessory): DBPro Daughter Board
Line In:
2 x RCA (L / R)
Optical Out:
1 x TOSLINK
Optical In:
1 x TOSLINK
CrystalVoice: Yes
Scout Mode: Yes
Headphone Amp: Up to 600 Ohms
EAX: EAX Advanced 5.0
DTS Connect Encoding: Yes
Dolby Digital Live Encoding: Yes
Audio Fidelity: Up to 24-bit / 192kHz
Software & Compatibility
Supported Operating Systems: Windows® 8, Windows® 7
Compatible PlatformPC - PCIe x1
Microphone
Microphone TypeDual-array Noise Canceling Condenser
Beamforming: Yes (Built into Audio Control Module)
Frequency Response: 100Hz to 20kHz
Sensitivity: -37dB
Additional Features
ASIO: ASIO 2.0
Recommended Usage
Gaming: Yes
Home Entertainment: Yes
Pro Audio: Yes
Recording: Yes
ĐÓNG GÓI
Sound Blaster ZxR sound card
Sound Blaster DBpro card
Sound Blaster Audio Control Module
1x Optical Cable
1x Stereo(3.5mm)-to-RCA cable
1x DBpro cable
Quick Start Leaflet
Installation CD containing:
Drivers for Windows 7 and Windows 8
Creative software suite
User's Guide